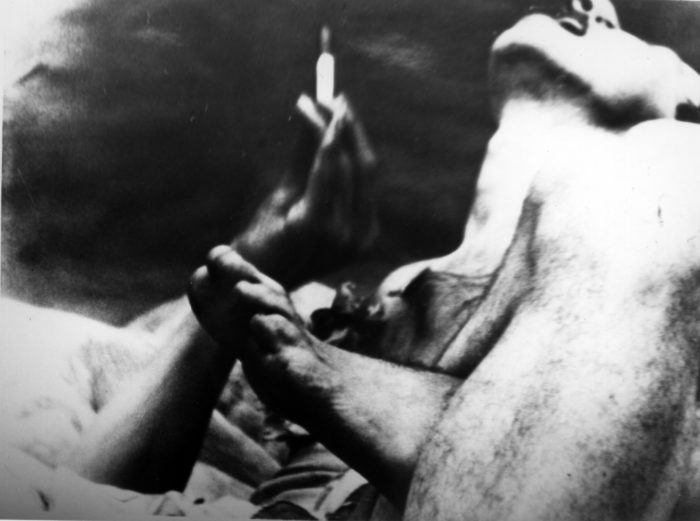 Thursday, January 20, 2005
@ Artists' Television Access
---
Auntie Dote
Rare flicks by The Cockettes and Jack Smith
Presented by ATA and SF Cinematheque
Come celebrate against the inauguration with a nostalgic romp through the Nixon era with camp stars from East and West. By marching or motorcade get to our AntiAuguration Screening of films by SF's own original drag collective The Cockettes and NY's pioneer queer performance artist Jack Smith.
The Cockettes' Tricia's Wedding
33 min. 1971, 16mm color/sound
"The world-famous Cockettes enact Tricia Nixon's wedding to Edward Cox on June 11, 1971. Hurtme O. Hurtme, television correspondent, covers the wedding and interviews celebrities in attendance such as Golda Mier, Indira Ghandi, Jaquelyn Onassis, Queen Elizabeth, and Elizabeth Taylor. Coretta King sings. During the reception, Eartha Kitt puts LSD in the punch. All hell breaks loose. A hilarious comedy filled with the real-life band of characters who inspired the Cockettes documentary."
Jack Smith's No President
45 min. 1968, 16mm, color/sound on CD
NO PRESIDENT was Jack "I was a Male Yvonne De Carlo" Smith's third feature film, after the notorious FLAMING CREATURES and NORMAL LOVE. Originally titled "The Kidnapping of Wendell Willkie by the Love Bandit," it was made in reaction to the 1968 Presidential Campaign. In this version, restored by filmmaker Jerry Tartaglia, the scenes alternate between elaborate tableaux of Smith's creatures shot at his Green Street loft with campaign footage of former presidential candidate Wendell Willkie, a liberal Republican from Indiana who ran against FDR in the 1940's. The climax of the work appears to be the "auctioning" of the presidential candidate at the convention. No President features underground stars from 1968, including Tally Brown, Jerry Sims, Irving Rosenthal, Donna Kerness, Mario Montez, and Charles Henri Ford.