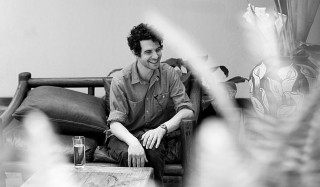 Thursday, July 25, 2019 — 7:30 pm
701 Mission Street (at Third St)
San Francisco, CA 94103 – MAP
(415) 978-2700
---
For a Winter
Remembering Jonathan Schwartz
Visit our Facebook Event Page
Admission: $10 General/$6 Cinematheque Members
Advance tickets available here
Program presented in association with Canyon Cinema
In his short life, filmmaker Jonathan Schwartz (1973-2018) created a striking body of 16mm and digital video works of deep lyrical sensitivity and a wisdom beyond his years, works which embody exploration and introspection, which caress and patiently observe the world, and which masterfully fuse color, light, gesture and sound into rich and concise, if always expanding, form. Blending travelogue, personal reverie, familial portraiture and literary allusion, Schwartz' subtle and open-ended films sing with observational grace while presenting intimate, at times troubled, portraits of friends and family in the context of an infinitely complex and conflicted global community. And with an uncanny kindness and a brooding sense of mortality, Schwartz' films contemplate love, aging, intimacy, generation, loss and hope. (Steve Polta)
[The films of Jonathan Schwartz] both lacerate and console as we confront his unique cinematic expression of sorrow, disquiet and exultation. (Irina Leimbacher, Punto de Vista Festival: Pamplona. 2019).
This memorial screening presents a 64 minute selection of the artist's substantial body of work, focusing on films dealing with personal and family life, on youth, aging and mortality; with a small selection of travelogue and animation works.
SCREENING:
for them ending (2005)
for a winter (2007)
in a year with 13 deaths (2008)
happy birthday (2010)
between gold (2011)
a preface to red (2011)
animals moving to the sound of drums (2013)
a set of miniatures: a certain worry; an aging process; a kind of quiet (2014)
winter beyond winter (2016)
NOTE #1: Schwartz' film The Crack-Up (2017) will screen at the Minnesota Street Project (1275 Minnesota Street, SF) as part of the San Francisco Art Book Fair. Program will screen at 7pm on Friday, July 19 and at 3:30pm on Sunday, July 21. Screenings presented by San Francisco Cinematheque and Canyon Cinema. Details coming soon.
NOTE #2: San Francisco Cinematheque is proud to be the exclusive North American distributor of Jonathan Schwartz: To Light, To Love, To Time, an astonishingly crafted, full-color hardback celebrating Schwartz' life and work, edited by Garbiñe Ortega. Published in 2019 by the Punto de Vista Festival, Pamplona, Spain, To Light, To Love, To Time pays homage to the filmmaker through contributions from writers, academics, filmmakers and friends, including Erika Balsom, Ben Rivers, Max Golberg, Ben Russell, Irina Leimbacher, Deborah Stratman, Jodie Mack, Rebeka Rutkoff and more. For sale for a limited time here.
Jonathan Schwartz. A man of unbelievable and uncanny kindness and grace. We had a regular (if slow) correspondence and each installment was a subtly thoughtful, dedicated and insightful granule of poetry and kindness and connection. The depth of his sensitivity and wisdom was astonishing—he seemed hardly of this world and it's tempting to say that the world was not deserving of his kind and sensitive existence. Describing or summarizing his work at this moment is very hard. His films simply are so rich, so emotionally honest and so disarming in their form and appearance and address, so genuine and open and mysterious and full of the troubled grace that Jonathan brought to this world. I was honored to share his work over the years and my heart breaks that he is no longer with us. (Steve Polta, October 9, 2018)