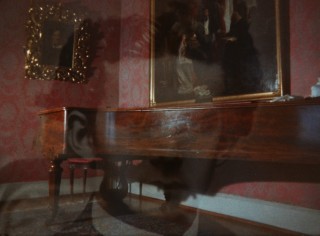 Gregory Markopoulos: Sorrows
Thursday, April 2, 2015 — 12:00 am
2155 Center St (at Oxford)
Berkeley, CA 94720 – MAP
510-642-0808
---
Seconds of Eternity: The Films of Gregory J. Markopoulos: Program 2
Mark Webber In Person
presented in association with the UC Berkeley Art Museum and Pacific Film Archive
Introduction and Booksigning by Mark Webber
Admission: $9.50 General/$5.50 Cinematheque members
Advance Tickets available here.
Join our Facebook event.
"For me, personally, the Cinema is music; is music with its contrapuntal elaborations," Gregory J. Markopoulos wrote in 1955. "Cinema is the noble metaphysical Art of our age, and of our one world without boundaries. Cinema can show us in what aspects we differ from one another, and in what aspects we remain the same. Cinema can draw nations together, and dissolve boundaries between groups of men. Lastly, Cinema is the representative of Life, which no other Art can give us, so truly."
One of the great visionary filmmakers of the twentieth century, Markopoulos was an equally insightful writer on film aesthetics, theory, and criticism. His call for an ideal cinema is one that remains highly relevant today, giving us direction and inspiration. The presentations at BAM/PFA this April pick up where [the] 2012 Markopoulos retrospective left off, offering a rare chance to see films made between 1967 and 1969. The series coincides with the launch of Film as Film: The Collected Writings of Gregory J. Markopoulos (The Visible Press, 2014), a volume that offers essential reading and insights into the mind of a poet filmmaker. We welcome the book's editor, London-based film curator Mark Webber, who will introduce the programs. (Susan Oxtoby)
Program 2:
Edited entirely in camera, Sorrows was filmed at the house in Switzerland that King Ludwig of Bavaria built for Richard Wagner and his family. "The Mysteries is a mournful work in which . . . the rhythmic repetition of images evokes poetic speech, and changes in costume emphasize shifts in time, space, and emotion. Here a young man's struggles with memories of love and intimations of death are set alternatively to deafening silence and the music of Wagner" (Kristin M. Jones). Of the three-minute portrayals in Political Portraits, Markopoulos said, "I call them political portraits in the Greek sense, daily living."
SORROWS US/Switzerland, 1969, 6 mins, Color, 16mm, From Temenos Archive
THE MYSTERIES US/Germany, 1968, With Friedhelm Krey, 64 mins, Color, 16mm, From Temenos Archive
POLITICAL PORTRAITS US/Switzerland/Italy, 1969, With Ulrich Herzog, Marcia Haydee, Rudolf Nureyev, Giorgio de Chirico, 12 mins (excerpt), Silent, Color, 16mm, From Temenos Archive
Total running time: 82 mins
With thanks to Robert Beavers and Temenos Archive.
Film as Film is now available in our online store!